Memories
"Burnie" - Edgewater's Hunka Burning Love
Burnie was a wonderful girl who lived to just over 14 yrs. She died
in September 2008 - just ten days after her son, Wally died. It was
a very sad day and month for all of us. She was very special.
Katie - Mauna Kea's Promises To Keep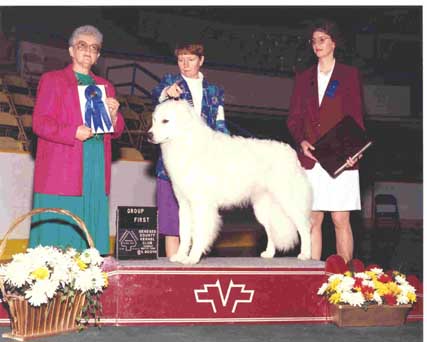 Katie's Group I at Genesee KC, Flint, Michigan.
Katie lived to just over 12 years of age and was the protector at our home. We never had to lock our doors and for those of you who knew Katie, you can appreciate that fact! Katie was tough and wonderful. She never forgot a friend nor an enemy. She taught me many lessons and introduced me to new dog friends. She was a great judge of character. Katie did not enjoy crowds or people running up to her but that's okay, I don't either! A Kuvasz is not for everyone and I thank Sue Thomas for entrusting Katie to us. What a great time I had showing Katie! Rest well my sweet girl.